"Acting is not pretending or lying. It's finding a side of yourself that's the character and ignoring your other sides. And there's a side of me that wonders what's wrong with being completely honest."
-Angelina Jolie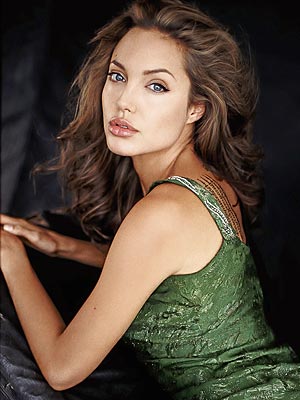 Full Name : Angelina Jolie Voight
Date Of Birth : 4 June 1975
Place Of Birth : Los Angeles, California
Sign : Gemini
Height : 5'7
Hair : Brown
Eyes : Blue
Children : Maddox Chivan (adopted from Cambodia, 2002), Zahara Marley (adopted from Ethiopia, 2005) , Shiloh Nouvel Jolie-Pitt (fathered by Brad Pitt), Pax Thien Jolie-Pitt (adopted from Vietnam, 2007)
Father : Jon Voight
Mother : Marcheline Bertrand
Brother : James Haven Voight
Significant Other : Brad Pitt
Jolie said she was committed to life as a single mom when she was paired with Pitt in the espionage action flick.
"Brad was a huge surprise to me," she said. "I, like most people, had a very distant impression of him from ... the media.
"I think we were the last two people who were looking for a relationship. I certainly wasn't," she said. "I was quite content to be a single mom."
The "Tomb Raider" babe admitted she was thrilled working with Pitt every day while shooting "Smith" in 2003 and 2004.
"Because of the film, we ended up being brought together to do all these crazy things, and I think we found this strange friendship and partnership that kind of just suddenly happened. I think a few months in I realized, 'God, I can't wait to get to work,' " she said.
"Whether it was shooting a scene or arguing about a scene or gun practice or dance class or doing stunts — anything we had to do with each other, we just found a lot of joy in it together and a lot of real teamwork. We just became kind of a pair."
While Jolie adamantly insisted she and Pitt were not seeking to pair up, the pouty-lipped bombshell confessed they were tempted to make more of what they had.
"And it took until, really, the end of the shoot for us, I think, to realize that it might mean something more than we'd earlier allowed ourselves to believe," Jolie said. "And both knowing that the reality of that was a big thing, something that was going to take a lot of serious consideration."
Jolie said she and Pitt remained "very, very good friends" after shooting "Smith." They were resigned to staying nothing more than pals, Jolie said, until Pitt and Aniston announced their breakup in early 2005.
Pitt and Aniston filed for divorce that spring, amid rampant reports that the Hollywood hunk had his eye on Jolie the whole time.
Vogue didn't directly press Jolie on whether she and Pitt fooled around behind Aniston's back. But Jolie said she realized, early on, that she shared a deep, emotional bond with Pitt before they formally hooked up post-Aniston.
"Not as exciting as what a lot of people would like to believe," Jolie said. "We spent a lot of time contemplating and thinking and talking about what we both wanted in life and realized that we wanted very, very similar things."
"And then we just continued to take time. We remained very, very good friends — with this realization - for a long time," she added.
"And then life developed in a way where we could be together, where it felt like something we would do, we should do."
Jolie said she has only briefly met Aniston and would gladly sit down with her — but only of the "Friends" star asked to do so.
"I did [once meet Aniston], but it was not a proper meeting. We've, like, passed each other and said 'hi' briefly, shook hands. But not a real sit-down-and-talk kind of meeting," Jolie said.
"That would be her decision [for a long sit-down], and I would welcome it."
Jolie said she doesn't plan to marry Pitt, but they're committed to raising their boy and two girls.
She gave birth to their daughter, Shiloh, earlier this year, after adopting Maddox from Cambodia in 2002 and taking in Zahara from Ethiopia in 2005.
"We both have been married before, so it's not marriage that's necessarily kept some people together.
"We are legally bound to our children, not to each other, and I think that's the most important thing," she said.
Jolie said she hasn't spoken to her dad, actor Jon Voight, for five years.
Jolie said it was her children — basically Maddox — who ultimately cemented her relationship with Pitt as a family.
One day, Maddox "just out of the blue called him Dad," she said. "It was amazing. We were playing with cars on the floor of a hotel room, and we both heard it and didn't say anything and just looked at each other.
"So that was probably the most defining moment, when he decided that we would all be a family," she said.
Jolie said that in addition to Pitt being a great dad, he has a "wicked sense of humor" and, "He's a great challenge to me."
"We're constantly in competition with each other," she said. "He's somebody I admire based on the way he lives his life."
SOME RECENTLY RELEASED JOLIE'S SEXY PICTURES