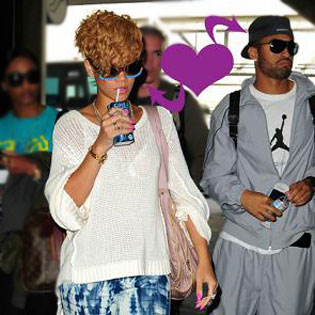 Baseball player Matt Kemp has been dating the 22-year-old singer since January, and can't get enough of her. Rihanna is currently on tour in Europe, and Matt can't wait for her to return to the US because he is missing her so much.

"She's just a fun person," he told Us Magazine. "I love to be around her. She's definitely not gonna be here for a little while. Hopefully when she gets back she'll at a couple [more] games. She's definitely a great person in my life, and I'm happy I'm with her."

Rihanna revealed her feelings for Matt last week. Just days after claiming their relationship was nothing more than a bit of "fun", the star admitted she was in love with Matt. She also revealed she was struggling with being apart from him for so long and couldn't wait until they could be together again.

"Oui, oui, oui... it`s love," she said backstage at her concert at the Bercy Arena in Paris. "I`m really happy right now. It's going to be seven weeks before I see him again. It'll probably be when I get back to America that we can hook up properly.

"We have to make do with Skype and phone, but I miss him. I can't wait to see him again."